INTRODUCTION
The first phase of the ecological risk assessment procedure due to environmental factors is hazard identification (NRC, 1983). Among the biomarkers used for assessing ecotoxicity, reproductive biomarkers are an integral part of assessing long-term and continuous effects from environmental factors (Huggett et al., 1992; Schmitt et al., 2005). Histological biomarkers, including sex, stages of gonadal development, tumors, intersex, and atresia, are also an essential component for researching the reproductive health of fishes (Blazer, 2002; Kokokiris et al., 2005; Lee et al., 2010; Colin et al., 2016).
The rock bream, Oplegnathus fasciatus, is a teleost that belongs to Perciformes and Oplegnathidae. It is a coastal fish species that inhabits coastal waters of the South China Sea, Japan, and Korea (Kim et al., 2005). In Korea, the rock bream is a very important species for aquaculture and conservation of fishery resources. The rock bream is produced artificially from the hatched larvae to the early stage before the juveniles are grown to approximately 5.0 cm in total length and ready to be released to the wild. Nearly 9 million fishes were released to the wild from 2012 to 2015 (FIRA, 2015). The present study aimed to investigate the gonad structural abnormality and intersexuality of the rock bream, O. fasciatus, inhabiting the southern coast of Korea, measured during a survey of their reproductive potential.
MATERIALS & METHODS
1. Specimens
In total, 448 rock bream were used in the analysis with total length of 27.5±6.8 cm and total weight of 522.9±385.6 g. The samples were collected using stow nets and trawl nets in waters near Sacheon, Mokpo, and Yeosu of Korea (Fig. 1).
2. Histological analysis
Five preparations of 1 cm2 area were analyzed from each individual after categorizing the gonads by fore, middle, and rear parts using the methods described by Lee et al. (2010). Each sample was fixed with 10% neutral buffered formalin and then dehydrated through an ethanol series (70%–100%). The tissues were embedded in paraplast (McCormick Scientific, St. Louis, MO). Embedded tissues were serially sectioned to a thickness of 4–6 µm using a microtome (RM2235, Leica, Germany). Samples were stained with Mayer's hematoxylin–0.5% eosin (H-E) stain and Masson's trichrome stain.
3. Statistical analysis
The chi-square test is conducted with SPSS 21.0 software (SPSS, Chicago, IL, USA) to verify the significant difference in sex ratio (p<0.05).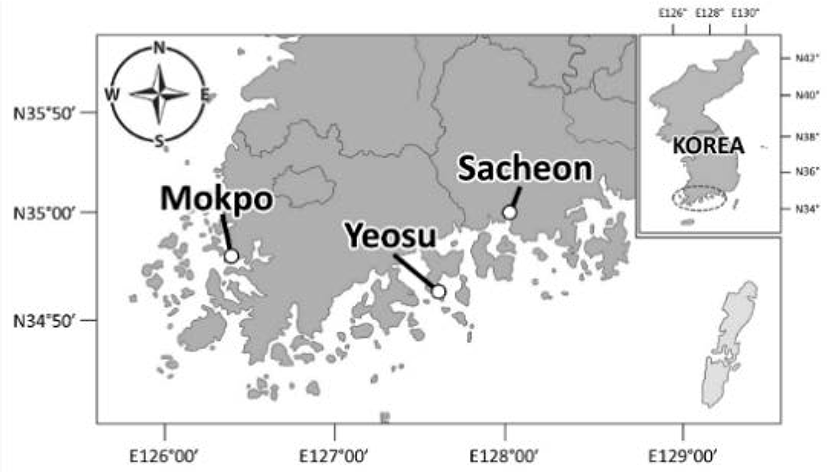 Download Original Figure